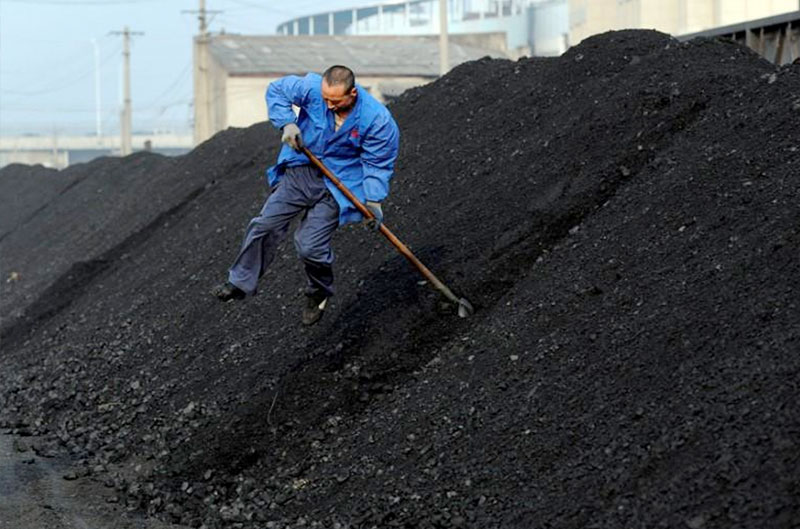 FILE PHOTO: A worker shovels coal at a freight yard in Hefei, Anhui province, January 13, 2013.
BEIJING (Reuters) - China will not allow coal imports at small ports from July 1, the state-run China Securities Times reported on Wednesday, in a move likely to tighten supply of the fuel during summer and support a further rally in prices.

Coking coal futures in China soared almost 8 percent on Thursday. [IRONORE/]

The newspaper did not cite the source of its information nor a reason for the ban. But China, the world's top coal buyer, has been keeping a tight lid on supply of the fuel in the country as part of efforts to tackle both glut and smog.

The ban will cover more than 150 second-tier ports, according to the report which was scarce on details. But it doesn't include the major ports such as Tianjin.

Many second-tier ports are owned by power plants on the coast and the ban may increase their shipping and loading fees, said a trader from the port city of Rizhao.

Loading fees at first-tier ports are $1 higher per tonne than those at second-tier ones, the trader said.

A source at the trading arm of Indian coal firm Adani Group said none of their cargoes has been affected so far. Adani sells Indonesian and Australian coal to China.

Small ports linked to major Chinese power utilities have stopped ships carrying coal from either loading or docking at the ports starting this week, according to a trader in Ningbo, a major port in China's eastern Zhejiang province.

Customs also conducted random checks of coal cargoes and did a more thorough inspection process before clearing shipments, the trader said.

"It is extremely hard to do import business now," she said. "Coal imports are set to slow down if this continues for a long time."

China's campaign to address oversupply in coal has led to the closure of many mines across the country, tightening availability of the fuel during summer when power demand usually peaks.

Beijing has also cracked down on coal imports to restrict the flow of low-quality material. China's coal imports dropped 10.5 percent in May from April.

Chinese thermal coal futures hit a record high of 585 yuan ($86) a tonne last week, climbing nearly 10 percent so far this month.

China's top planning body has urged coal mines to speed up the release of high-grade coal capacity to help ensure electricity supply during peak hours and to key regions in summer, the state-backed Security Daily reported earlier on Wednesday.

($1 = 6.7780 Chinese yuan)

Reporting by Meng Meng and Josephine Mason; Editing by Manolo Serapio Jr.

Source from REUTERS